Cosmetic Dentistry
Care for Every Stage of Your Life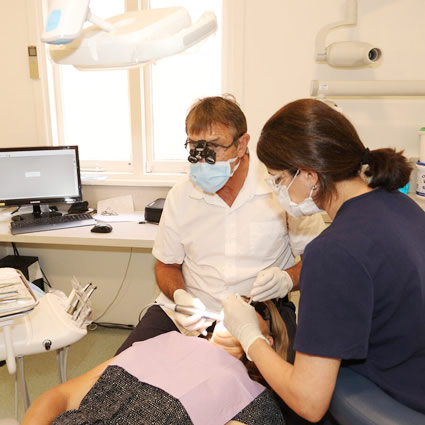 As a team of practitioners with the same vision in mind, the dentists at Dentist Perth put one thing first: the health of your smile. We've provided the same great care at all three of our locations for over 30 years.
Your treatment plan is customised to your specific concerns and long term goals. Some of the services that we provide include:
Cosmetic Treatments and Smile Makeovers
Tailor aesthetic cosmetic dental treatments like veneers, whitening and tooth coloured fillings to improve the way your smile looks.
All-On-4 and Single Dental Implants
Dental implants and full arch tooth replacement help you restore your oral function and self-confidence.
Customised Dental Veneers
Teeth veneers are thin, tooth coloured porcelain shells that, when bonded over the front of your teeth, provide dazzling results.
Management for Bruxism and Teeth Grinding
Chronic teeth grinding or clenching can lead to headaches, migraines, TMJ disorder and broken teeth.
Professional Teeth Whitening
Brighten your teeth so they look whiter and younger. Teeth whitening is perfect alone or with other cosmetic treatments.
Get Started Today
Not sure where to start? That's okay! Our professional team are happy to answer any questions and discuss your dental health needs. Fear the dentist? Ask us about comfortable sedation techniques onsite at our locations in Sorrento, Doubleview and Wembley Downs.
Dentist Perth welcomes new patients at all three of our convenient locations. Contact us today to schedule your first appointment and we'll show you how to get your dental health back on track. Insurance plans are gladly accepted. Plus, we're open on Saturdays!
CONTACT US »

Cosmetic Dentist in Doubleview, Wembley Downs, Sorrento WA | Dentist Perth