Teeth Whitening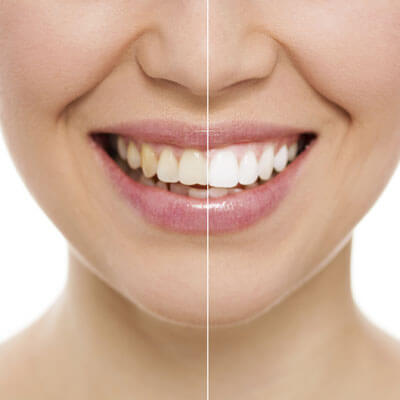 Our Wembley Downs, Sorrento and Doubleview dentists provide teeth whitening in Perth's western suburbs as an effective and minimally invasive way to improve the appearance of your smile. A stunning, megawatt smile can brighten any room and boost confidence. We're delighted to help assist patients in whitening their teeth to enhance their smile with Polar teeth whitening products, which are used by cosmetic dental clinics worldwide.
Why Choose a Professional Teeth Whitening Treatment?
Choosing custom teeth whitening treatment in Perth can help you avoid unwanted side effects from over-the-counter products such as
Tooth sensitivity caused by whitening
Chemical burns to your gums
Accidentally swallowing the whitening gel
Depending on the type of results and the outcome you're looking for, we offer both take- home kits as well as in-clinic bleaching.
Take-Home Teeth Whitening Kits
For value and predictable results, our custom whitening trays can be used at home. They fit firmly over your teeth for optimal, even whitening results. To combat sensitivity, we also recommend using calcium-based Toothmousse during your home whitening treatments.
Take-home tooth whitening kits allow you to conveniently top up your whitening program throughout the year. Refill syringes of bleaching gel are available for purchase at any one of our clinics in Doubleview, Sorrento and Wembley Downs.
One-Hour Teeth Whitening
Looking for a way to quick-start your whitening results or don't have time to wait on take-home trays? Ask about our one-hour in-chair treatment. Combined with our take-home option, this method of teeth whitening creates dramatic results.
Am I a Candidate for Teeth Whitening?
You will need to have a dental examination prior to starting a whitening procedure to ensure that your teeth are free of decay, disease or aging fillings. It is also important that your teeth have recently been cleaned by one of our hygienists.
Our dentist will discuss which type of teeth whitening treatment in Perth is most appropriate for your individual needs so that you can start straight away. Contact Dentist Perth today to begin!
CONTACT US »

Teeth Whitening Perth in Doubleview, Wembley Downs, Sorrento WA | Dentist Perth