General Dentistry
Dental Care for Young and Old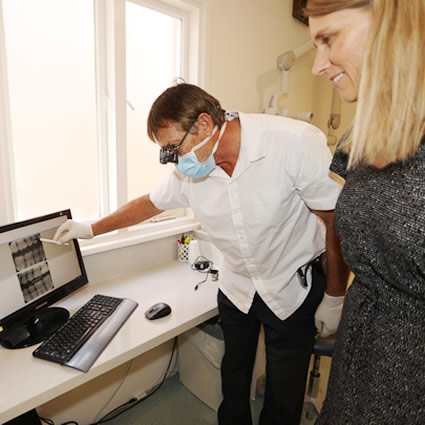 As a team of Perth dentists with the same vision in mind, the dentists at Dentist Perth put one thing first: the health of your smile. We've provided the same great dental care at all three of our Perth Dental Clinics for many years. The first Dental Clinic at Wembley Downs focussing on Family dentistry was established by Dr John Moran over 38 years ago and is it continues to be supported strongly by the local community.
From this historical background individual dental treatment plans customised for specific concerns and long term goals have evolved into a comprehensive suite of preventative, restorative and cosmetic dental therapies. Some of the dentistry services provide at Perth Dentist include:
Preventative Dentistry
Our ultimate goal is to help you prevent dental problems that can spoil your smile before they start. Let us show you how.
All-On-4 and Same Day Dental Implants
Dental implants and full arch tooth replacement help you restore your oral function and self-confidence while keeping you smiling.
Root Canal Therapy
Avoid an extraction by treating decay that has already reached the nerve of your tooth with a root canal.
Restorative Crowns, Bridges and Inlays
Repair damaged or missing teeth with a reliable, custom made porcelain restoration.
Wisdom Tooth Removal
Impacted 3rd molars can cause pain, swelling or even damage adjacent teeth. Learn about Wisdom Tooth Removal.
Periodontal Therapy
Stop gum disease before it has a chance to cause permanent tooth loss and challenge your general health and well-being. Ask about our non-surgical periodontal therapies.
Sleep Dentistry
Choose from inhalation, oral and IV sedation. It's a great way to relax and complete all of your treatment at one time.
Children's Dental Care
We strive to help your child enjoy their visit with us, while equipping you with information on how to keep their teeth healthy.
Emergency Appointments
Call us straight away for same day emergency care. We're even open on Saturdays!
Get Started Today
Dentist Perth welcomes new Perth dental patients at all three of our convenient dental clinic locations. Contact us today to schedule your first dental appointment and we'll show you how to get your dental health back on track. Insurance plans are gladly accepted. Plus, we're open on Saturdays!
CONTACT US »

General Dentistry in Doubleview, Wembley Downs, Sorrento WA | Dentist Perth