Periodontal Care
Combating Gum Disease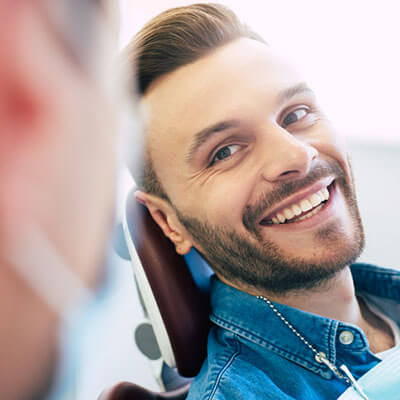 Gum disease is a serious condition that is irreversible. However, with the proper management, even those who already have gum disease can save a tooth and maintain their smile. Non-surgical periodontal therapy is one of the best ways to combat gum disease before it leads to tooth loss. At Dentist Perth, our Wembley Downs, Sorrento and Doubleview dentists work closely with you to keep your teeth healthy.
Effective periodontal treatment focuses on keeping the bone and gum tissues around your teeth healthy, too. Unfortunately, they can be damaged when small amounts of plaque congregate beneath the gums. It later calcifies and causes receding gum tissue, along with bone loss. Eventually, your teeth can become mobile or even fall out.
A patient is never "cured" of periodontal disease, but it can be stabilised by the treatment interval recommended to you by our Doubleview dentists and dental hygienist and therapists. During a three-month period, the bacterial pathogens that cause active periodontal disease begin to repopulate or colonise, hence can reactivate the disease. Frequent removal of the bacteria from under the gum line can control the inflammation and can often prevent the further breakdown of the bone and gum supporting your teeth. Although damage done to the tooth by gum disease cannot be completely reversed, preventative cleaning providing periodontal support to the tooth is one of the tools we can use to effectively halt its destructive progress.
How We Can Help
Sometimes a preventative cleaning isn't enough. If you have symptoms of bone loss, our dentists, hygienists and dental therapists provide gentle, deep cleanings to remove calcified build-up. These therapies encourage a healthy environment that inhibits the spread of disease.
Contact us if you are experiencing symptoms such as:
Bleeding gums when you brush or floss
Visible gum recession ("long teeth")
Heavy tartar or plaque build-up
Bad breath
Food that seems to pack under your gums or between your teeth
Loose or mobile teeth
The team at Dentist Perth will help you remove harmful bacteria from your teeth and show you how to maintain optimal oral hygiene to prevent it from returning. We'll advise you on what you can do at home and how often you should come back for regular cleanings.
Get Started on a Healthier Smile
New patients are always welcome to book a time with our dentists. All insurance plans can be filed on the spot with our HICAPS machine, and we offer convenient Saturday visits that fit conveniently even into the busiest of schedules. Contact us today to arrange your appointment!
CONTACT US »

Periodontal Care in Doubleview, Wembley Downs, Sorrento WA | Dentist Perth