Dental Implants
Tooth Replacement Options at Dentist Perth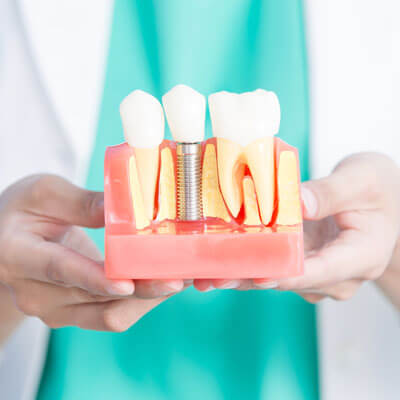 It can be a stressful and emotional event to lose a tooth. At Dentist Perth, our Wembley Downs, Sorrento and Doubleview dentists are here to help you replace your missing teeth in the most predictable manner possible. You'll find that we can help by offering in-house dental implant options.
FREE Dental Implant Consultation
Dental implants can be a remarkable treatment option, so how do you know if you're the right candidate? The best way is to book a free dental implant consultation with us! To make the process easier for our patients, we're offering a complimentary dental implant consultation so you can learn more about this service with no obligation or risk. Terms and conditions apply * Contact us today.
Reliable Implant Dentistry
Implants are the gold standard of modern tooth replacement. Surgery is performed at our Wembley Downs clinic so there's no need to travel outside the practice. Everything that is needed is under the one roof ! [/two_thirds]
Two Stages of Treatment
Conventional implants are placed surgically with a temporary prosthesis installed over them as your mouth heals. That way you are never without teeth. A bit later on, we will place a permanent crown or bridge over the implant(s). The results are aesthetically pleasing and the most natural looking type of tooth replacement that we offer.
All-on-4 Implants: Teeth in One Day
Do you need to replace all of your teeth at one time? A full set of teeth can be anchored directly over implants in just one day. The All-on-4 concept is perfect for people who want to avoid multiple visits and are looking to replace missing teeth, broken or worn broken teeth or an ill-fitting loose denture. Our dentists will use a series of 3D Dental Cat Scans to plan the surgical placement of each artificial tooth root. We will also use a series of photographs and study models to plan your treatment before surgery begins.
The Most "Natural" Teeth Possible
Replace your missing teeth to avoid embarrassment or before other teeth shift out of place. Implants are designed to mimic your natural teeth more closely than any other type of modern tooth replacement available. Schedule a free consultation * with one of our dentists to find out if they are right for you. Financing plans are available for your convenience. Contact us today.
CONTACT US »
*Terms and conditions apply. There may be recommendations for x-rays, photos, or other diagnostic records that need to be obtained before a fully informed opinion can be offered. These items may also attract a fee. All fees and charges will be fully explained during the initial free Perth dental implant consultation. The consultation is a no obligations opinion only. Be mindful that any surgical or invasive procedure carries risks. Before proceeding, you should seek a second opinion from an appropriately qualified health practitioner.

Dental Implants in Doubleview, Wembley Downs, Sorrento WA | Dentist Perth