Dental Crowns, Bridges and Inlays
Customised Dental Restorations Perth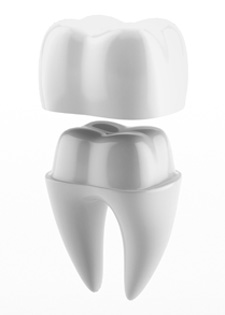 Dental crowns, a dental bridge or an inlay in Perth, Western Australia might be needed if your teeth have been damaged by some form of trauma, decay or age.
Our Wembley Downs, Sorrento and Doubleview dentists understand how vital it is to be able to chew with comfort and confidence. When your teeth don't work properly, it can impact everything from your health to your self-esteem. It's our job to help you maintain the integrity of your bite and smile.
Choosing the Best Type of Dental Treatment in Perth
Depending on the severity of tooth decay or damage, we may recommend a restorative treatment such as:
Customised Crowns Perth
restore the structure of a tooth above the gums. The crown preserves normal chewing and biting capabilities by dispersing the forces applied to the tooth. It fits over it like rings around a wine barrel.
Teeth Bridge Perth
replaces one or more missing teeth. Bridges are supported on natural teeth on each side of the gap or by dental implants.
Porcelain Inlays Perth
are laboratory-made fillings that repair tooth structure where damage is not extensive. The tooth is strengthened and easy to care for without unwanted gum irritation.
Get a Personalised Care Plan
Every person's need unique. During your visit to Dentist Perth, our dentists will pay particular attention to the details surrounding your function and smile needs and our dentists take the time to understand what you're seeking from your dental care requests. It is our goal to provide accurate, aesthetic restorations that have an excellent fit.
We are happy to discuss any questions or concerns that you have, in order that you can choose the best type of restoration for your long-term dental health. Contact us today. We have three convenient locations, with late and Saturday appointments available to suit your schedule.
CONTACT US »

Dental Crowns, Bridges and Inlays in Doubleview, Wembley Downs, Sorrento WA | Dentist Perth